This post may contain affiliate links. If you buy thru these links, we may earn a commission at no additional cost to you.
---
I am a flosser. You may recall that I floss when I'm watching TV, when I'm getting ready for bed, and yes when I'm in the car (though USUALLY it's when Jim's doing the driving & not me).
73% of Americans would rather go grocery shopping than floss. Source
Anyway, just thought I'd share my $.02 with everyone regarding the world's best dental floss.
And how does this fit on a web site about "fun stuff" you ask???? Just you wait and see…
World's Best Dental Floss
It's the Oral-B Satin dental floss. It's much wider than traditional floss. Most dental floss is like string, but this one is more like a thin, flat ribbon.
It's kinda slithery as it slides gracefully between your teeth. It's not got any "coating" per se on it (except for the minty flavor which is really strong, yet pleasant), but for some reason it never gets stuck between any of my teeth like some other brands do. (Must have something to do with the "satin" effect.)
Lifetime amount of dental floss purchased by the average person: 18 yards. Amount that should be bought per person: 122 yards (figuring one foot a day). Source
The best part: It will not shred, or fray, or break… ever! Plus, it's comfortable to grip and control, even when it's wet.
I got this travel-size one from my dentist. (I take it everywhere I go.) Then I ended up stocking up on a 2 year's supply of Oral-B toothbrushes, solely for the fact that each came with a complimentary travel size of the Satin dental floss.
So, truthfully, I have no idea if they even make this stuff in full-size containers. Nor if it's even sold on the retail market! Heck it coulda just been a one-time special offer for all I know. (Hope not, but I've still got a couple of year's worth of it stockpiled away just in case.)
Oh, and it's said to be preferred 2-to-1 over Glide — which is currently the best-selling floss in the United States.
In fact, I signed up to receive a free full-size sample of Glide dental floss from the Crest website. So now I can judge for myself which is really the best!
 
Fun (& Funny) Facts About Dental Floss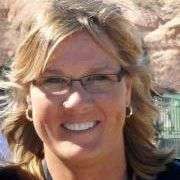 I like to help people find clever ways to do things that will save time & money — so I write about "outside the box" Beauty Tips and Beauty Hacks that most people wouldn't think of. With beauty products (like hair care, skincare, and makeup) and personal care items (like teeth issues, body odor, undergarments, and <em>other</em> topics that very few people enjoy talking about)… I share my own honest firsthand experiences that I think others would appreciate hearing about and find helpful. Especially for topics that are usually very "private" and most people don't like to talk about publicly! When I'm not trying new beauty products and organizing all my "stuff", you'll find me at the corner of Good News & Fun Times as publisher of The Fun Times Guide (32 fun & helpful websites).