Teeth, Lips & Mouth
Don't you just love the way your teeth feel after getting them cleaned at the dentist? You can have that polished and clean feeling every day! For the past 4 years, I've been following this at home teeth whitening routine for a fresher, healthier smile. I'm going to show you how it only takes a few minutes a day to do teeth whitening at home.
---
Skin Care & Makeup
If you've seen the movie Parent Trap starring Lindsay Lohan, then you probably remember the ear piercing scene. When I was in college (and on a budget), that's how I pierced my ears. My best friend (a nurse) pierced my ears for me — because I was too cheap to pay for a professional piercing. So now I have a fun story to share and a silly memory to look back on! Here's how to pierce your ear at home safely.
Indoor tanning lotions are VERY different than typical suntan lotions that were formulated for use outdoors. Believe it or not, you should never use a regular suntan lotion in a tanning bed. You should only use indoor tanning lotions. Here's why, plus some important facts about indoor tanning lotions, amplifiers, bronzers, and more tips that you might not realize…
I've been a loyal Secret antiperspirant user. And I sometimes use Certain Dri to really stop the wetness. Upon closer inspection of the labels on the bottles of antiperspirants on the store shelves, I found that the ones I like best have very high amounts of Aluminum Zirconium. So I set out to find the best NATURAL deodorant. Here's what I've learned about clinical strength deodorants and natural deodorants.
---
Hair Products & Hair Styles
---
Clothing & Accessories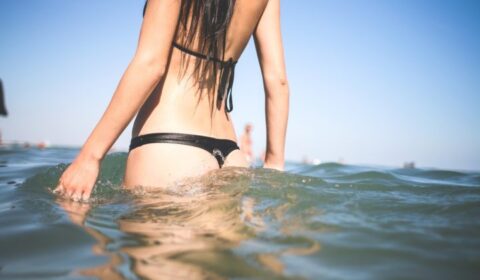 Ever considered a Brazillian butt lift? Well, first make sure you take the pencil test to see if you need one. I saw a fitness expert talking about this on TV. She said you should put a pencil beneath your butt cheek to determine whether you need bbl surgery or not. Also, step-by-step instructions for the test and exercises to tone your glutes.
I hate taking my rings to jewelry stores to have them cleaned – because they always want to sell you something. Here's how to clean jewelry at home yourself!
80% of women are wearing the wrong bra size. Here's how to measure bra size yourself better than a bra fitter could (based on your bra band size & bra cup size, bra strap length, and overall fit) — and find 'the right' bra for you!
If you were to give your bra size to a bra fitting expert at a store, they would probably laugh and then invite you to find your REAL bra size with their help. Here's how to do your own bra fitting — in the privacy of your own home. You can use the tips found here in our online Bra Fitting Guide to find your true bra size today!
---