This post may contain affiliate links. If you buy thru these links, we may earn a commission at no additional cost to you.
---
Do you know how to measure bra size?
Did you know that 80% of women are wearing the wrong bra size? (It's true.)
The 2 most common mistakes women make when choosing a bra are:
Getting a bra that's too small in cup size.
Getting a bra with a band that is too loose.
Couple that with the fact that as your weight fluctuates (due to age or pregnancy) so too does your bra size — and you can see why bra size is a big big problem for women!
So that means if you've done any of the following, then you probably need to adjust your bra size:
Lost or gained 5 to 7 pounds
Experienced childbirth or menopause
Changed your diet or exercise regime
Here's how to measure bra size… and find the right bra!
How To Measure Bra Size, Bra Cup Size, And Bra Band Size To Find The Right Bra
With a tape measure, measure the area all the way around just beneath your breasts. Your arms should be down, and the tape measure should be snug.
TIP: The number on your tape measure is not your band size though. If it's an odd number, you should round up to the next even number. If it's an even number, still round up… to the next even number.
 This is best accomplished by looking at the cup size you're presently wearing.
TIP: Since bra cups are sized according to band size, every time you go down in number on the band size, you must increase your cup size by one as well. So if your band size is 33 inches and you started out with a 32A cup, then your cup size will be 34B. Or if you're 36C, your tighter band size would be 34D.
Using the bra band size and bra cup sizes you've determined from steps 1 and 2 above, you're now ready to start trying on bras.
TIP: Keep an open mind and don't get too focused on one particular size though — because different brands of bras have different sizes. So the formula above gets you close, but it may not be your perfect size just yet. It's a ballpark figure to get you started.
The perfect band size is the tightest one that you can comfortably wear that will still support you without feeling as though your shoulders are being weighted down.
TIP: If your shoulders feel like they're being pulled on from below, then your band size is too tight. Go up one band size.
The perfect cup size is one that your breasts fill up with no space left inside — and no fabric wrinkling. Also check for bulging — if there is bulging at the top, sides, or under your arms then you need to try a different size.
TIP: The underwire should enclose your entire breast and lay flat against your ribs.
Believe it or not, the band of your bra should do most of the work… not the bra straps. The straps simply keep the bra in place as you move. You should be able to lift your bra straps 1 inch (about 2 fingers) off your shoulders with a bit of effort. If you can lift them higher, then your straps are too loose. If you can't lift them that high, then your straps are too tight.
TIP: If you're a D cup or larger, you should buy a bra style with narrower straps. That way, the bra straps are centered on your shoulders and the weight of your breast is evenly distributed. (And your bra straps won't fall down!)
And that, my friends, is how to measure bra size and find the right bra for you!
BONUS: Here's our Online Bra Size Guide that's filled with lots of helpful bra fitting tips — so you can find your correct bra size in the comfort of your own home.
---
Like this post? Save it to read again later… or share with others on Pinterest!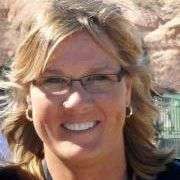 I like to help people find clever ways to do things that will save time & money — so I write about "outside the box" Beauty Tips and Beauty Hacks that most people wouldn't think of. With beauty products (like hair care, skincare, and makeup) and personal care items (like teeth issues, body odor, undergarments, and <em>other</em> topics that very few people enjoy talking about)… I share my own honest firsthand experiences that I think others would appreciate hearing about and find helpful. Especially for topics that are usually very "private" and most people don't like to talk about publicly! When I'm not trying new beauty products and organizing all my "stuff", you'll find me at the corner of Good News & Fun Times as publisher of The Fun Times Guide (32 fun & helpful websites).