This post may contain affiliate links. If you buy thru these links, we may earn a commission at no additional cost to you.
---
I've been using 100% pure Argan Oil as a face and body moisturizer for awhile now. (So has my husband…. and my dog.)
My favorite is Josie Maran Argan Oil for these reasons:
Our 100% natural, 100% organic, 100% pure Argan Oil is harvested and cold pressed [in Morroco] from the nut of the argan tree. It's a multi-tasking miracle moisturizer. Vitamin E and essential fatty acids in Argan Oil help hydrate hair, face, body, nails and everything in between. ~Josie Maran
And because…
Josie Maran Pure Argan Oil is first cold pressed to ensure the best quality, highest-grade oil. It is housed in a recyclable glass bottle and purchased from women's cooperatives in Morocco to support their social and economic welfare. These cooperatives work within a UNESCO biosphere reserve that ensures the protection and reforestation of Argan trees. ~Sephora
I also like that Josie Maran's Argan Oil is easily available from QVC and Sephora, as well as Amazon.
I've purchased a number of sale-priced Josie Maran Argan Oil collections from QVC that I absolutely love!
How We Use Argan Oil At Home
I use Argan Oil every morning and every night as a face and body moisturizer. The best part is it's not greasy! Argan Oil has improved my skin (and hair) in these ways:
Here are 2 other ways I see myself using Argan Oil in the future: as a treatment for scars and stretch marks and as a makeup remover.
My husband uses Argan Oil in the following ways:
As a beard oil every other morning. This is virtually eliminated all of the dry, flaky skin that hides out beneath his beard and goatee.
As a sunburn treatment, on our recent trip to Aruba where he became sunburned after a day-long Jeep ride with the top down. As a result, there was no pain from the sunburn the next day, and it healed very quickly thanks to Argan Oil's anti-inflammatory properties.
As a foot treatment once a week. It has greatly improved the dry, flaky skin (similar to Athlete's Foot) that he has had on the bottoms of his feet for years.
Here's an interesting video… A Man's Guide To Argan Oil: 5 Uses.
My dog uses Argan Oil in the following ways:
Rubbed lightly on the bottom of his paw pads — whenever they are dry and cracked. (For what it's worth, I try to watch him so he doesn't lick his paws until they've dried — which is a rather quick process. I usually give him a Kong toy with treats inside to distract him for that short time.)
Spritzed lightly on his coat and rubbed into his skin — as a natural conditioner for his dry skin and fur. (I continue to put olive oil on his food, at the recommendation of our veterinarian years ago.)
Here's how to apply Argan Oil to your dog's coat.
For the record, I don't use very much of the Argan Oil on my dog each time simply because I don't want him licking it off his paws or fur. Here's a veterinarian's advice on what to do if your dog swallows Argan Oil. (Keep in mind, those veterinarians are referring to Argan Oil that is combined with other ingredients — like dog shampoo with Argan Oil in it, not 100% pure cold-pressed Argan Oil.)
NOTE: You may have heard that you can add 1 teaspoon of Argan Oil to your dog's food each day and it will help to condition their coats from the inside out. But I believe that's referring to the culinary food-grade version of Argan Oil, not the cosmetic version of Argan Oil — which is the type that my post here is referring to. By the way, they do make a dog Argan Oil that's 100% pure and cold-pressed that claims to be America's first and only dog Argan Oil. Before using on your pet, I would heed their advice and "consult a veterinarian before using this product on your four legged friend. Not all dogs are the same!"
What's The Best Argan Oil To Use On Your Skin?
As mentioned above, there's a culinary (food-grade) version of Argan Oil and a cosmetic (skin-friendly) version of Argan Oil.
Within the cosmetic version, there are 2 types: raw (100% pure, all-natural, organic) and deodorized (has received a steam or chemical treatment, which strips the oil of its natural nutty scent and health qualities).
For the absolute best Argan Oil to use on your skin, you want to look for the words 100% pure Argan Oil or 100% Argania Spinosa Kernel Oil. These phrases mean that the Argan Oil is all-natural and organic. Argan Oil that is not "100% pure" has been diluted, over-processed, or combined with fillers & chemicals.
Also, cold-pressed is better than expeller (high-heat) pressed because that means it wasn't heated over a certain temperature during the manufacturing process.
Good To Know…
Unfortunately, the difficult extraction methods used to produce Argan Oil limits its shelf life to 3-6 months. This is also why 100% pure Argan Oil is so expensive to buy.
Fun Uses For Argan Oil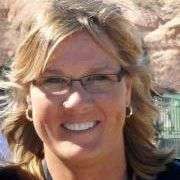 I like to help people find clever ways to do things that will save time & money — so I write about "outside the box" Beauty Tips and Beauty Hacks that most people wouldn't think of. With beauty products (like hair care, skincare, and makeup) and personal care items (like teeth issues, body odor, undergarments, and <em>other</em> topics that very few people enjoy talking about)… I share my own honest firsthand experiences that I think others would appreciate hearing about and find helpful. Especially for topics that are usually very "private" and most people don't like to talk about publicly! When I'm not trying new beauty products and organizing all my "stuff", you'll find me at the corner of Good News & Fun Times as publisher of The Fun Times Guide (32 fun & helpful websites).