This post may contain affiliate links. If you buy thru these links, we may earn a commission at no additional cost to you.
---
As I shared in my earlier post, I, my husband, and my dog use Argan Oil daily. Yes, I'd say we are addicted to this all-over body moisturizer.
After using regular unscented Argan Oil for so long, my new favorite thing is to make scented Argan Oil myself!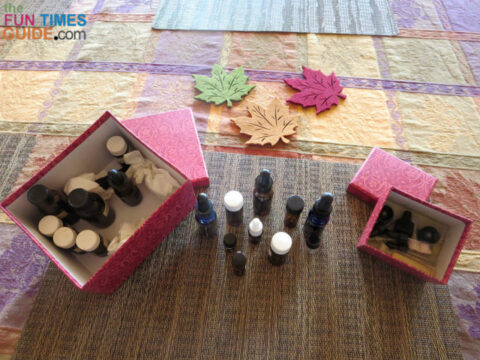 It's not that it smells bad as is (a light hazelnut scent). It's just that it smells SO much better when combined with a few drops of Essential Oils.
Start With 100% Pure Argan Oil
One of the best things about pure Argan Oil is the fact that it's a nice light oil that mixes well with cosmetics.
Not only can you apply it liberally as a moisturizer prior to putting on your regular makeup, but it's also light enough to mix with Essential Oils — for aromatherapy purposes.
Regular, unscented Argan Oil has a light, natural, hazelnut smell. It's okay, but it's kind of "nutty."
So I've been taking already-awesome Argan Oil to a whole new level by adding a few drops of 100% pure Essential Oils to my bottles of 100% pure Argan Oil.
It adds a unique fragrance to my jars of liquid Argan Oil (stored in dark, glass jars).
I could do the same thing with my jars of whipped Argan Oil (aka Body Butter) that are unscented. But I usually just buy the scented versions of whipped Argan Oil instead. My favorite is vanilla fig. However, I've noticed Josie is constantly changing the vanilla combinations in her Argan Oil products, so I'd actually recommend vanilla anything from her line. (And that's coming from someone who usually doesn't like things that smell like "candles." Trust me, her vanilla scented Body Butters are soft and natural and clean smelling — not like candles.)
To date, I haven't seen any scented Argan Oil — in liquid form — in Josie Maran's line yet. So I've just been adding a few drops of regular Essential Oils to each jar myself to create my own fun scents.
Safety First: 3 Things To Keep In Mind
#1 – By adding only a few drops of Essential Oil per ounce of Argan Oil, you shouldn't experience any skin irritation. How many drops are too many? Well, since there are 6 teaspoons in 1 ounce of fluid, based on the following, a maximum of 18 drops per 1 ounce is safe unless you're pregnant.
Rule of Thumb: Essential Oils should be diluted in a carrier substance (vegetable or nut oil, or water) at no greater concentration than 3-5%. That means if you have 1 teaspoon (5cc) of carrier oil [Argan Oil], you would add 3 drops of pure Essential Oil. This would make a 3% solution that could be used on a portion of the body. For massage or for application over large areas of the body, a 1% solution (meaning, 1 drop of essential oil in 1 teaspoon of carrier oil) is generally a safe concentration. For infants, using a 0.25% solution is recommended (.5% for toddlers). Source
#2 – When mixing Essential Oils with Argan Oil, only use Essential Oils that have a proven track record as being safe for use on the skin. Here are some examples:
Lavender (great for all skin types, for relaxation, hair preparations, and cleaning products)
Lemon (great for lifting moods, cleaning preparations, and sparingly in toners and products for oily skin)
Peppermint (good for lip balms, oily/acne skin, and cleaning products)
Rose geranium (good for all skin types, creating perfumes, and for use in homemade moisturizers)
Rosemary (good for hair preparations, oily/acne skin, and cleaning products)
Sweet orange (good for all skin types and very soothing in room sprays for children)
Tea tree (great for healing, getting rid of dandruff, oily/acne skin, and cleaning products)
#3 – Never use Argan Oil that's been scented with Essential Oil on eyelids or eyelashes. You can safely use unscented Argan Oil on your eyelashes and eyelids — just not scented Argan Oil.
How To Combine Argan Oil With Essential Oils
Thinking of making your own scented Argan Oil?
It's soooo easy! Get ready to fall in love with Argan Oil all over again.
Here's the dilution ratio that is safest to use on your skin:
Add 15-18 drops of your favorite Essential Oil(s) per ounce of Argan Oil.
The number of drops can be increased for larger bottles of Argan Oil, as long as you don't exceed 18 drops per ounce.
Or, you can combine Argan Oil with Essential Oils in smaller aromatherapy bottles, as long as you don't exceed 3 drops per teaspoon.
Here are some Argan Oil recipes to try: Argan Oil And Essential Oil Recipes + Essential Oils That Are Good For Your Hair
For what it's worth, I usually experiment by pouring a small amount of Argan Oil into an empty dark-colored glass eye dropper bottle that formerly held a beauty serum, or one of the many small sample bottles I've saved through the years. That way, I'm not wasting a lot of Argan Oil or Essential Oil while trying to find the perfect combination of scents for me.
So, which Argan Oil scent is your favorite?
UPDATE: I just noticed that Josie Maran has added infused Hawaiian Argan Oils to her line on QVC. A few of the fragrances have popped up on Amazon too. I haven't tried them yet, but some of the reviewers aren't too fond of the scents and many have stated that the fragrance doesn't last very long. That's what makes DIY scented Argan Oil so great… you can add the exact scent(s) you like and as much (or as little) scent that you want to each bottle!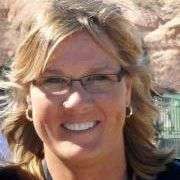 I like to help people find clever ways to do things that will save time & money — so I write about "outside the box" Beauty Tips and Beauty Hacks that most people wouldn't think of. With beauty products (like hair care, skincare, and makeup) and personal care items (like teeth issues, body odor, undergarments, and <em>other</em> topics that very few people enjoy talking about)… I share my own honest firsthand experiences that I think others would appreciate hearing about and find helpful. Especially for topics that are usually very "private" and most people don't like to talk about publicly! When I'm not trying new beauty products and organizing all my "stuff", you'll find me at the corner of Good News & Fun Times as publisher of The Fun Times Guide (32 fun & helpful websites).