This post may contain affiliate links. If you buy thru these links, we may earn a commission at no additional cost to you.
---
Want long lashes? Who doesn't, right?
Thick, long lashes frame your eyes and make them appear larger. Long eyelashes alone can also make you look prettier and more feminine when you're not wearing any other makeup.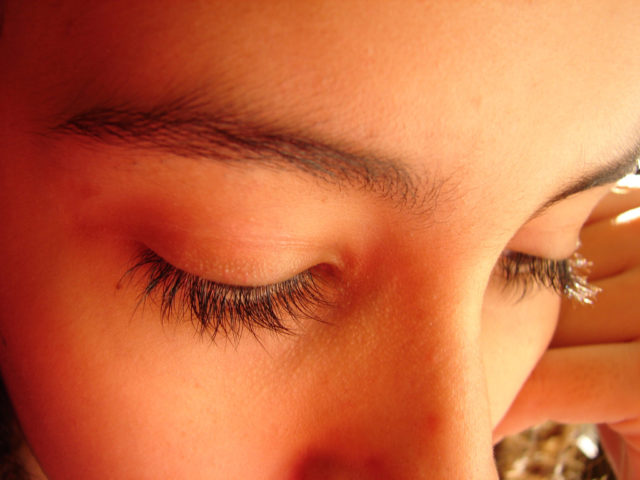 Good news: you don't have to spend money on fiber mascara or false eyelashes to get the long eyelashes you've always wanted! (Who wants unnaturally long eyelashes that resemble spider legs anyway?)
You just need to have a little patience… and follow these 2 simple steps to make your own eyelashes healthier, fuller, less brittle, and yes — longer.
Step 1: Remove Your Mascara Properly
Regular mascara gives the illusion of thickening and lengthening your lashes without investing in lash extensions or paying for expensive fiber mascara.
However, mascara can also cause premature breakage and lash loss — especially if you don't remove it properly. (More about that in a minute.)
If, like me, you don't go anywhere without wearing mascara, here's what you need to know:
In addition to having ingredients that are more likely to dry out your eyelashes, waterproof mascara is more difficult to remove completely. Therefore, you should only wear waterproof mascara if you know you'll be doing some serious crying or sweating. It's really not necessary for everyday wear. (As one who has worn only waterproof mascara for the past 20-some years, I know it's a hard habit to break. I'm still getting used to consciously choosing the non-waterproof mascara on a day-to-day basis.)
Unfortunately, mascara removal — especially if it's waterproof mascara — can be brutal for your eyelashes. Allow your makeup remover to do the work for you. Don't tug or try to rub away the mascara — like I used to do. (For years, I removed my waterproof mascara by plucking it off my eyelashes one by one at night.) Instead, you should only use soft cotton pads and a good quality makeup remover to remove your makeup without pulling or tugging.
Fortunately, I've finally found a makeup remover that removes even waterproof mascara with very little effort. I absolutely love it! Philosophy's Purity Made Simple is a 1-step makeup remover that works great even on waterproof mascara, doesn't burn your eyes, and makes your entire face feel super clean without feeling 'dried out'… or soapy. After using it for several months now, my skin feels healthier. And I actually look forward to removing my makeup each night… and morning!
Step 2: Condition Your Eyelashes Regularly
Honestly, I wish I had started doing this many years ago. But I didn't. And my eyelashes have paid the price. They became thin and brittle.
Your eyelashes will be stronger and less prone to breakage if they are conditioned regularly.
Since I've started taking care of my eyelashes, they're beginning to look fuller and thicker — even without mascara.
Here are some simple ways to condition your lashes in order to have beautiful long eyelashes of your own:
Add a thin layer of petroleum jelly to your eyelashes before bed. Just use your finger or a Qtip to swipe a thin line of Vaseline along your eyelashes — right at the lash line — at night. Some prefer to dip a clean mascara wand into the Vaseline and brush it onto the lashes directly, but then you've got to clean the wand each time and it gets fairly messy. I've seen others use a petroleum-based lip balm, gently rolling it onto the eyelids at the lash line. Still others dip a cotton swab into the Vaseline jar, rub that onto an eyelash comb, then comb directly onto the eyelashes.
Add more vitamin H (or biotin) to your diet by eating things like almonds, bananas, mushrooms, and whole grains. Biotin strengthens your hair and helps it grow more quickly. Vitamins D and E are also beneficial for hair growth, including eyelash growth. If your skin is dull or dry and your hair is prone to split ends, then chances are your diet is also sabotaging your lashes. Simply eliminating processed foods and replacing them with fresh fruits and vegetables will make a huge difference in your skin, hair, and nails as well. Beautiful lashes are a natural side effect of a healthy diet.
Add a small amount of olive oil, coconut oil, or vitamin E oil your eyelids at night — all the way up to the lash line. Use a cotton ball to apply. This will not only make your eyelids themselves soft and supple, but it will also lightly condition the lashes that are growing out of those eyelids. If you want to brush the oil directly onto your eyelashes, here's how to do it.
Keep in mind, the life cycle of each eyelash is about 2 to 3 months, so it will take a few weeks before you begin to notice results.
Sure, you could buy an eyelash conditioner that does the same thing, but why spend money when you have things at home that will work for free?
Also, if you decide to try #1 or #2 above, then you should remove the oily residue from your skin in the morning in order to prevent clogged pores. Simply use a makeup remover on your eyes and face each morning, just as you do each night.
Bonus: 3 Tricks To Make Your Eyes Look More Noticeable
Here are 3 simple tools to help enhance your own lashes and make them look thicker, fuller, and longer:
Choose a mascara that has a super-thin wand. It's like you're getting a 2-fer: mascara and eyeliner in one! How? A thin wand (especially one with a lot of bristles) makes it easier for the mascara to latch onto even the shortest, thinnest lashes. A thin wand also makes it easier to apply the mascara way up close to your eyelid. As a result, you'll look like you're wearing eyeliner when you're not! If your favorite mascara doesn't come with a thin wand, then simply add a thin coat of eyeliner the regular way — right up close to your eyelashes — for bigger, bolder eyes.
Use an eyelash curler. A little trick: as I'm holding the eyelash curler in place, I gently blow puffs of air from my lips upwards toward my eye 3 or 4 times. This helps the mascara dry a little quicker, and helps your eyelashes stay in the curled shape a little longer. (You could also use a heated eyelash curler or heat it with a blow dryer first, but that takes more time.) Either way, the end result is a stronger curl that lasts all day.
Use an eyelash comb. This often overlooked tool spreads out your eyelashes and removes any clumps after you've applied mascara. An eyelash comb gives you the look of longer eyelashes by separating the smaller, thinner ones that tend to stick together. Use a cotton ball soaked in rubbing alcohol to clean the eyelash comb after each use.
Other Ways To Get Long Eyelashes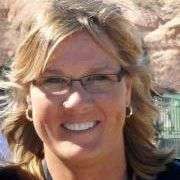 I like to help people find clever ways to do things that will save time & money — so I write about "outside the box" Beauty Tips and Beauty Hacks that most people wouldn't think of. With beauty products (like hair care, skincare, and makeup) and personal care items (like teeth issues, body odor, undergarments, and <em>other</em> topics that very few people enjoy talking about)… I share my own honest firsthand experiences that I think others would appreciate hearing about and find helpful. Especially for topics that are usually very "private" and most people don't like to talk about publicly! When I'm not trying new beauty products and organizing all my "stuff", you'll find me at the corner of Good News & Fun Times as publisher of The Fun Times Guide (32 fun & helpful websites).