This post may contain affiliate links. If you buy thru these links, we may earn a commission at no additional cost to you.
---
I've always had dry skin — ever since my teen years.
Whenever I stop moisturizing my skin — as few as 2 days in a row — the dry, flaky skin starts to reappear on my nose, my hands, and my feet!
For ages, I alternated between a variety of body lotions that are found at most stores. (These are the body lotions that work the best for my dry skin.)
Now that I'm getting older, I'm starting to pay more attention to anti-aging products and ingredients that can truly prevent dry, flaky skin (mostly on the face, but also on my feet).
In addition to learning about the importance of exfoliating, I've also educated myself on the 3 main types of moisturizers: body lotions, body oils, and body butters.
TIP: If you are using a physical scrub, you can apply your toner before you apply the scrub, after you remove the scrub, or both. The important thing is to make sure you apply toner at some point after you cleanse to rebalance the pH levels! Source
I'll cut to the chase. The takeaways here are:
Body lotions are the least effective way to moisturize dry skin. (Who knew?…)
You need to hydrate your skin first — not just with water from a bath or shower, but with a hydrating skin product. (See which ones below.)
Then, moisturize your skin with a body oil (and/or a body butter).
See why these 3 things are so important for dry skin…
Should You Hydrate Your Skin Or Moisturize It?
For the longest time, I was confused about the difference between skin products that are hydrating vs. skin products that are moisturizing.
But I've learned that dry skin needs both.
Here's why (and how) to hydrate and moisturize your dry skin:
Dry skin that is dehydrated looks and feels dull and tight — even after it has been moisturized. When you hydrate your skin, you're increasing its water content, resulting in healthy, smooth, and plump skin. Hydrated skin makes it less likely to see fine lines and wrinkles. Some good ways to hydrate your skin are to use gentle humectants — like hyaluronic acid, glycerin, honey, or aloe. These help to bind and retain moisture within your skin.
Dry skin that lacks moisture looks and feels rough, dry, and flaky. When you moisturize your skin, you're increasing the natural oils below the skin's surface in order to protect, lubricate, and nourish your skin. This prevents your skin from drying out. Some good ways to moisturize your skin are to use natural moisturizing oils — like coconut oil or jojoba oil. Oils penetrate deep into the skin and allow your skin to breathe (rather than creating a barrier, which lotions tend to do).
Since the purpose of hydrating is to bind water to our skin and moisturizing is to prevent the water from leaving our skin, it's important that hydration comes before moisturizing (when applying products topically). Source
Remember…
Hydrate your skin with a natural humectant first (to increase the amount of water in your skin).
Then lock in the hydration with a moisturizing oil (instead of a lotion).
These are the products that I like to use:
I alternate between using all-natural honey and hyaluronic acid to hydrate my the skin on my face and my entire body. (I was surprised to find that hyaluronic acid is actually affordable!)
I alternate between using all-natural coconut oil and argan oil to moisturize the skin on my face and my entire body. (I actually use argan oil lots of different ways in my beauty regime.)
I Also Like Body Butter For Extremely Dry Skin!
There are 3 primary types of dry skin moisturizers. They are:
Body lotions
Body oils
Body butters
I've always used body oils regularly for my dry skin (all over). But I've recently started using body butters as well — instead of using body lotions.
Big differences between these dry skin moisturizers:
Body oils closely resemble the natural oils in our skin — so your skin easily absorbs them. A body oil is the most soothing option, as it softens and nourishes the skin while sealing in hydration. A body oil is the best choice for super dry skin.
Body butters are thicker and more dense than lotions and oils — so they are more easily and more deeply absorbed into your skin. A body butter is great for dry, flaky skin.
Body lotions have a high water content, so they're much lighter in texture and not as long lasting as body oils or body butters. A body lotion is not the best choice if you have dry skin.
TIP: All types of body moisturizers should be applied onto damp skin (like right after a shower or bath).
The Bottom Line
So there you have it!… That's how to hydrate severely dry skin and lock in moisture using body oils and body butters.
If you were hoping to find that there is only one single best moisturizer for dry skin, I'm sorry to disappoint. Extremely dry skin takes patience… and consistency… and a little bit of trial and error. Once you know if your dry skin needs more water or if it needs more oil, then you'll know the type of products will work best for your skin.
Here's how to determine if your skin lacks water or if it lacks oil.
I've outlined the routine that works best for me and my dry skin. What do you think is the best moisturizer your for dry skin? I'm curious to hear about your favorite routine and products…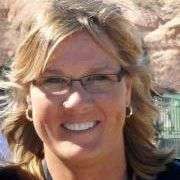 I like to help people find clever ways to do things that will save time & money — so I write about "outside the box" Beauty Tips and Beauty Hacks that most people wouldn't think of. With beauty products (like hair care, skincare, and makeup) and personal care items (like teeth issues, body odor, undergarments, and <em>other</em> topics that very few people enjoy talking about)… I share my own honest firsthand experiences that I think others would appreciate hearing about and find helpful. Especially for topics that are usually very "private" and most people don't like to talk about publicly! When I'm not trying new beauty products and organizing all my "stuff", you'll find me at the corner of Good News & Fun Times as publisher of The Fun Times Guide (32 fun & helpful websites).