This post may contain affiliate links. If you buy thru these links, we may earn a commission at no additional cost to you.
---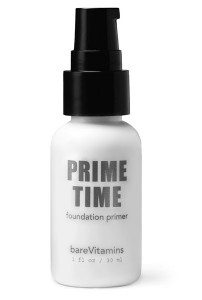 I've had my Bare Minerals makeup for about a year now.
When I first bought it (I got the Bare Minerals Starter Kit), I wanted to like this particular brand of mineral makeup so badly.
I had seen many of the presentations on QVC and late-night infomercials featuring Leslie Blodgett, and I was convinced this was the mineral makeup for me!
I had high hopes that it would simplify my beauty routine and help me look less "made up" than my longtime favorite: Clinique Perfectly Real Makeup (a liquid foundation).
I'll be honest, the Bare Minerals took awhile to grow on me. The biggest reason: I have dry skin.
Since the skin around my nose is always the driest, and it's no secret that powder makeup simply makes dry skin more noticeable, I kept saving my Bare Minerals for use only on those days when my skin didn't look so dry to begin with.
Well, I finally found the secret to making Bare Minerals look great on dry skin, and now I'm completely in love with my Bare Minerals makeup again!
Here's what worked for me…
The secret that makes Bare Minerals Foundation (or probably any powder or mineral foundation) work on dry skin is: Primer!
No joke.
Initially, I thought they were just trying to upsell me when I went into the Bare Minerals store and they recommended I try the Prime Time Foundation Primer.
I didn't want to buy a whole container of it. After all, I'd never heard of a foundation primer before. So they gave me a small sample in a little jar. When she put a dab of it on the back of my hand, it felt so silky smooth. It wasn't the least bit greasy or wet though. It's a rather unique feeling.
Fast-forward several months (I still hadn't tried the Primer I'd received as a free sample yet), and I started to hear more and more about foundation primers and "spackles" on beauty shows and in magazines.
I finally decided to try the Bare Escentuals Primer before putting on my Bare Minerals Foundation.
…What a difference a little Primer made! And I'm not alone. Most beauty experts highly recommend primer as well.
A little goes a long way, that's for sure. The Prime Time Primer by Bare Escentuals seems to create a smooth canvas for the powdery mineral foundation to cling to. It also adds the tiniest bit of moisture to those dry spots around my nose. And somehow, it does seem to minimize your pores.
That's a lot of good things about a tiny little bit of Primer. But it really did make a major difference in how much I like wearing Bare Minerals Foundation now.
Before & After Using Primer
Before trying the primer, the Bare Minerals makeup looked splotchy and uneven on me. The dry spots on my face looked especially noticeable.
After adding the Primer, the Bare Minerals makeup looked smooth and flawless. It's hard to use that word when talking about your own skin, but it's true. Flawless is the word that comes to mind.
The Primer truly makes all the difference.
Plus, the Primer plays a key role in helping your makeup last all day long.
So now I'm loving my Bare Minerals makeup… as long as I have the Bare Minerals Primer on underneath it!
I also add a light brushing of Bare Escentuals Mineral Veil on top of the Bare Minerals Foundation, and it really pulls the look together so it seems more natural — almost like I'm not even wearing makeup.
After using up the Primer sample they gave me, I immediately bought a larger bottle of it. At the same time, I stocked up on a larger size of the Bare Minerals Foundation and a larger Mineral Veil as well.
Since being introduced to Bare Minerals products, I've also purchased a couple of Bare Escentuals Retractable Makeup Brushes (one for each – the Foundation and the Mineral Veil), and I got some Bare Minerals Brush Conditioning Shampoo — to keep all of my brushes clean for years to come.
I'm definitely a convert. Now I love Bare Minerals makeup — even with my extremely dry skin!
If You've Got REALLY Dry Skin…
If you've got really dry skin like me, then you'll also appreciate this other thing that I recently learned: one single use of a microdermabrasion product (I used the Artistry microdermabrasion kit) makes a huge difference in terms of how the Bare Minerals foundation looks on dry skin.
So much so that I was able to wear the Bare Minerals makeup without the primer for the 2 days following my at-home microdermabrasion — and my skin looked just as great with Bare Minerals foundation on as it does when I use primer first!
There's something about a seriously through cleansing and sloughing of dead skin cells that makes all the difference in the world if you use a powdery mineral makeup. I would encourage you to try it.
Do You Like Bare Minerals Makeup Too?
What's your experience with Bare Minerals?…
Here's one person who can't get enough of Bare Minerals… Check out how many products she's got! See how she created her own DIY Bare Minerals makeup organizer:
Bare Escentuals Storage Method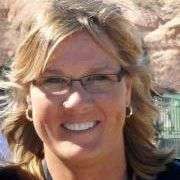 I like to help people find clever ways to do things that will save time & money — so I write about "outside the box" Beauty Tips and Beauty Hacks that most people wouldn't think of. With beauty products (like hair care, skincare, and makeup) and personal care items (like teeth issues, body odor, undergarments, and <em>other</em> topics that very few people enjoy talking about)… I share my own honest firsthand experiences that I think others would appreciate hearing about and find helpful. Especially for topics that are usually very "private" and most people don't like to talk about publicly! When I'm not trying new beauty products and organizing all my "stuff", you'll find me at the corner of Good News & Fun Times as publisher of The Fun Times Guide (32 fun & helpful websites).