This post may contain affiliate links. If you buy thru these links, we may earn a commission at no additional cost to you.
---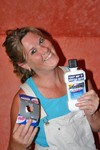 The products we've tried:
Following is a brief review of each teeth whitening product, and the results we obtained from each.
In the order we tried them…

Colgate Simply White Gel

Our introduction into the whole teeth whitening craze was this brush-on product. Though we felt that our teeth might be getting a bit whiter, we weren't crazy about the application process at all!
You had to "paint" it onto your teeth. Then wait for it to dry. But you never really felt you could close your lips while it was working. Thirty minutes of that for a few days in a row, and we were ready to toss the bottle out the window!
THEIR CLAIM:
"Takes less than one minute a day to apply. Clinically proven to whiten in 14 days with a money-back guarantee."
—> Details of how brush-on teeth whiteners work.
—> Here's what other users think.
—> And still what even more users think.
Crest Whitestrips & Night Effects Gel
To get our teeth looking even whiter, I decided to try Crest Whitestrips Original (press-on) while Jim tried Crest Night Effects gel (paint-on).
Jim had better luck than I did in a shorter amount of time.
Neither of us is crazy about the application process per se, though like other things… it's just about taking the time to actually do it.
We chose bedtime. My strips had to be removed in 30 minutes or so. Jim could sleep through the night with the gel on this teeth.
We've actually intended to purchase another supply of the Crest tooth-whitener products, because we were relatively pleased with our results, but we just haven't yet. I think it's the cost. Whenever I'm in a grocery or department store, I always think twice about items that cost more than $30.
THEIR CLAIM:
"These flexible, virtually invisible strips only need to be worn for 30 minutes twice a day. Use them for 2 weeks and you'll see whiter teeth for at least 6 months."
—> Compare the different types of Crest Whitestrips.
—> Details of how Crest Whitestrips (& tray-based systems) work.
—> What others think of Crest Whitestrips and their overall results.
Colgate Simply White Toothpaste


We've also tried Simply White toothpaste by Colgate. While we couldn't really notice any whiter teeth, we did like the way this toothpaste made our teeth feel: smooth and slickery!
THEIR CLAIM:
"Brush 2 minutes, twice a day, for 2 weeks for whiter teeth, guaranteed!"
—> Read what users think abou Colgate Simply White toothpaste.
Listerine Whitening Rinse
Now, we're currently trying Listerine Whitening Prebrush Rinse in a "clean mint" flavor.
(…you'd think our teeth would be really white by now, huh?)
It's much cheaper, compared to the other methods above, and much easier to use, but it gets mixed reviews from others who've tried it.
To use it, you simply rinse with a 1/2 oz of Listerine Whitening Rinse before brushing your teeth in the morning and again at night.
…We'll see where this leads.
Hopefully, our teeth will be rock-star shiny in no time!
THEIR CLAIM:
"A dynamic foaming action lets you know that it's hard at work whitening your teeth. Use every day for whiter, brighter teeth."
—> Check out this hilarious morning routine count-down, detailing how one's morning routine has drastically changed due to Listerine's new product.
—> Here's what other users think.
Pros & Cons of Listerine Whitening Rinse
PROS…
Inexpensive for the number of uses you get from each bottle
Bubbles & foams in your mouth – you can feel it working
Doesn't have to be left in your mouth long to be effective
There's no "application process" and no need to wait around for the next step
CONS…
Doesn't taste quite as "minty clean" as the label states
Doesn't go with "morning breath" well
Can't get past the fact that I'm rinsing to get this product to "adhere" to my teeth, only to turn around and brush it off right away
Check back for our "bottom of the bottle" review!
What I Learned Today:
As long as you keep your expectations in check, you should be able to find a teeth whitening product that meets your needs.
UPDATE: Despite what a few others have experienced (see comments below) with the Listerine Pre-Brush Rinse, we never had any bad reaction to the Listerine during the entire time we used it.
Nevertheless, we didn't see much "whitening" from it either. If at all, it was very, very subtle — after almost 3 weeks.
So the day I spotted a special offer on Crest Whitestrips, we decided to go back to the Crest white strips. This time, it was the Crest Premium whitestrips, though.
Man, what a noticeable difference!!!!! No joke.
The label says you'll notice a change within 3 days, and they're not kidding. In fact, we didn't even use them twice a day like you're supposed to. We just used them once a day, and after 3 days — big improvement. Now, after the full 7 days — we're 100% satisfied. (…and we've got some leftover for "touch-ups" a few months from now!) The box says the whitening lasts 12 months.
I will add this… The instructions say not to brush your teeth before applying the strips. I sometimes brushed first. Aside from the fact that it stings the gums a tiny bit, it's not bad at all. I just don't like applying the whitestrips in the morning without brushing first. That's just me.
FYI: I got the "special offer" boxes from Target. Inside each box: a week's supply of Crest Premium Whitestrips, a full-size tube of Crest Extra-Whitening Toothpaste, a Crest toothbrush, and a full-size container of Glide dental floss… all for a clearance price of $22.85! Even though we've still got a few strips left for future touch-ups, I went back last night and snatched the last two "special offer" boxes at my local Target.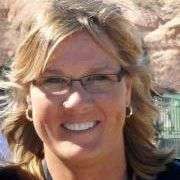 I like to help people find clever ways to do things that will save time & money — so I write about "outside the box" Beauty Tips and Beauty Hacks that most people wouldn't think of. With beauty products (like hair care, skincare, and makeup) and personal care items (like teeth issues, body odor, undergarments, and <em>other</em> topics that very few people enjoy talking about)… I share my own honest firsthand experiences that I think others would appreciate hearing about and find helpful. Especially for topics that are usually very "private" and most people don't like to talk about publicly! When I'm not trying new beauty products and organizing all my "stuff", you'll find me at the corner of Good News & Fun Times as publisher of The Fun Times Guide (32 fun & helpful websites).