This post may contain affiliate links. If you buy thru these links, we may earn a commission at no additional cost to you.
---
The size and type of makeup brushes you use will ultimately impact how flawless your makeup looks.
I've experimented with makeup brushes in the past. I used to use a large face brush similar to this one to apply translucent powder over my creamy foundation.
But then I got lazy and just started using my fingers to apply the foundation and a decent powder puff to apply the translucent powder on top.
Recently, when I switched to mineral makeup, I realized the importance of makeup brushes and the way that a good foundation brush could blend and cover your entire face evenly and effortlessly each time!
Here's how I found the best kabuki brush that's refillable and retractable too!…
Kabuki Makeup Brush
When I bought my first set of Bare Minerals makeup, I got a really great kabuki brush as part of the kit. I love this brush.
Basically, it's a really full, thick makeup brush with really soft bristles. Typically, kabuki brushes have shorter handles and fuller, softer bristles. They're usually used as foundation brushes (or all-over face bronzer brushes).
Kabuki brushes are most commonly used to apply dry, powder-based makeup such as foundation or blush. Because of its size and shape, a kabuki brush is excellent for applying a concentrated amount of product in a strong blunt curve. These brushes are also excellent for creating all-over coverage with a natural look … The brush head is usually rounded or flat, with a curved edge.  Source
So, after trying my very first Bare Escentuals brush, I pretty much decided right then and there that I had to always have a good quality kabuki brush at my disposal at all times. I feared the day that my Bare Minerals one would wear out. (I'm a little over-the-top on planning for things. Yes, I started looking for a replacement kabuki brush a few just days after I got my first one!)
I discovered that these are the best kabuki brushes:
The Best Refillable Makeup Brush
It wasn't until I went on a weekend trip that I realized that I would prefer a retractable kabuki brush — not only to protect the bristles when I travel, but also at home to keep hairspray, dust, and perfumes from landing on the kabuki brush which I keep on my vanity.
For years, I'd been using the Neutrogena mineral powder foundation — which has an all-in-one setup. The foundation powder is contained inside and the brush retracts. It's so handy!
But now that I prefer mineral makeup instead, I wanted a retractable and refillable makeup brush.
The Neutrogena one itself is not refillable. So by finding a refillable one, I could load it with my favorite mineral makeup and easily take it with me when I travel.
Here are some great retractable kabuki brushes. One of my favorites is the EcoTools retractable kabuki brush.
Much to my delight, Bare Escentuals recently came out with their own retractable AND refillable makeup brush! Yes, I was first in line to buy one. (I mean two!)
I got the large retractable makeup brush for my Bare Minerals foundation. And I got the small retractable makeup brush for my Mineral Veil (similar to a translucent cover power), also from Bare Escentuals.
For the record, you don't have to use Bare Minerals products in these retractable makeup brushes. You can put any type of powder or mineral foundation inside them.
The best part: the brush itself comes out, so you can clean it periodically. So I'm guessing that these makeup brushes will pretty much last the rest of my lifetime.
I couldn't be happier with my Bare Minerals refillable makeup brushes!
NOTE: At first, there wasn't enough mineral powder coming out for my liking. So I used a really small (and really clean!) allen wrench to widen the hole where the powder is dispensed from. I started with an allen wrench that was exactly the size of the hole itself, and moved it around enough to barely widen the hole. Then, I moved up to a slightly larger one and did the same thing. I used 3 different sizes to gradually make the hole bigger in a matter of about 10 minutes. It's a durable brush with solid parts, so it still opens and closes with ease.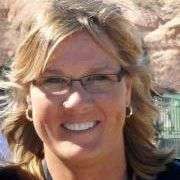 I like to help people find clever ways to do things that will save time & money — so I write about "outside the box" Beauty Tips and Beauty Hacks that most people wouldn't think of. With beauty products (like hair care, skincare, and makeup) and personal care items (like teeth issues, body odor, undergarments, and <em>other</em> topics that very few people enjoy talking about)… I share my own honest firsthand experiences that I think others would appreciate hearing about and find helpful. Especially for topics that are usually very "private" and most people don't like to talk about publicly! When I'm not trying new beauty products and organizing all my "stuff", you'll find me at the corner of Good News & Fun Times as publisher of The Fun Times Guide (32 fun & helpful websites).