This post may contain affiliate links. If you buy thru these links, we may earn a commission at no additional cost to you.
---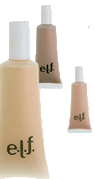 There's a new line of makeup products for Eyes, Lips and Face (e.l.f.) on the market.
The best part? They're only $1 apiece! (UPDATE: e.l.f. has updated the size and the quality of their products, and the price has increased as well. Still under $5 apiece in most cases.)
So, thanks to elf cosmetics,
women can now experiment with makeup without going broke.
(And they're cheap enough, you can finally afford to have your favorite lip gloss, mascara, or powder everywhere… one in your car, one in your purse, one in your desk at work, and one at your makeup station at home.)
Choose from cool products like:

Yep, each costs just one dollar!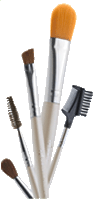 They also offer lots of cool products for your nails (all still incredibly inexpensive), makeup tools like brushes, applicators, sharpeners, etc. (most for just few dollars apiece), and lots of fun kits and gift sets (most are under $10).
In fact, the company claims that you can make up your entire face for just $12 …including all the tools!
Here are some interesting videos featuring e.l.f. products and the reason for e.l.f's success.
How Can Makeup Only Cost $1?
Before you go thinking this is a teen makeup line or that it's just another brand of "cheap" cosmetics that can't compare to the more expensive makeup lines on the market, consider this…
Just as there are "generic drugs" made which are identical to their high-cost name-brand medicines, there are also "generic makeups" made which are identical to their high-cost name-brand cosmetics.
The only difference is the amount of money spent on marketing the product. Period.
e.l.f. is a prime example of this theory. They are able to offer high quality makeup products at a very low price because of their:
low overhead costs
lack of advertising
minimal packaging
Sometimes, word-of-mouth is the most effective form of advertising there is. Check out all the media buzz and testimonials!
In fact, Shamah, the company's co-owner says that Eva Longoria, Hillary Duff, Alicia Keys, and Jamie Lynn Sigler are among the celebrities who've been known to "snatch a little e.l.f." (see video below).
Who's Behind e.l.f. Products?
Scott Vincent Borba (according to Oprah magazine, he's responsible for Hard Candy's cosmetics line and Neutrogena's men's line) and Joey Shamah.
Check out this CNN story about Borba and Shamah.
Together, these two are helping millions of women look great with the same testing & ingredients found in high-end "expensive" makeup… at a fraction of the cost.
For the record, there's no animal testing, and only all-natural ingredients in all e.l.f. products.
Where To Get e.l.f. Products
Elf makeup
is available at Target, among other places.
They offer the same prices for the same products through their website as well. I've been eying their site for awhile now, and I've noticed that they rotate back & forth between FREE and low-cost shipping.
Plus, when you shop online, they often throw in an extra item for good measure. It's all about first impressions and encouraging ladies to experiment and have FUN with makeup.
Try 'Em Out Online
So tell me, when was the last time you got something of quality for a buck? I know it's been awhile since $10 got ME ten different products worth anything!
And just how much FUN are ya gonna have the day that package arrives in the mail …loaded with so many cool makeup products to try???
Check out e.l.f. products online.
…This is one time when a few bucks definitely can go a long way!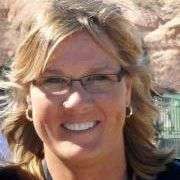 I like to help people find clever ways to do things that will save time & money — so I write about "outside the box" Beauty Tips and Beauty Hacks that most people wouldn't think of. With beauty products (like hair care, skincare, and makeup) and personal care items (like teeth issues, body odor, undergarments, and <em>other</em> topics that very few people enjoy talking about)… I share my own honest firsthand experiences that I think others would appreciate hearing about and find helpful. Especially for topics that are usually very "private" and most people don't like to talk about publicly! When I'm not trying new beauty products and organizing all my "stuff", you'll find me at the corner of Good News & Fun Times as publisher of The Fun Times Guide (32 fun & helpful websites).