This post may contain affiliate links. If you buy thru these links, we may earn a commission at no additional cost to you.
---
I have allergies that are so bad they begin in early Spring and don't stop until early Fall.
I also enjoy spending a lot of time outdoors — especially riding our motorcycle on long distance rides several days a week.
The long-lasting eyeliner I've been using for years (Revlon Colorstay Eyeliner) simply doesn't work well during allergy season.
This year, I decided it was time to find a waterproof eyeliner that will work year-round for me. (I already found a few waterproof mascaras that work great.)
For someone with allergies, this means finding a waterproof eyeliner that:
Lasts even after minor rubbing when you've got itchy eyes.
Stays in place even after hours of crying or dealing with watery eyes.
Survives the overnight wear test — like when you take a last-minute motorcycle trip without packing and need your makeup to work the following day too.
My Search For The Best Waterproof Eyeliner
After a quick search online, I decided to start with 2 of the 7 lasting waterproof eyeliners that got really good ratings from beauty experts. I chose:
In addition to those 2 that were already highly rated, I decided to try 2 others:
With these 4 waterproof eyeliners in my arsenal, and a bunch of springtime motorcycle rides on the calendar, I set out to find the best ONE.
I found it!
Here are the results of my itchy, watery eyes test…
In each of the following categories, the waterproof eyeliners are listed in order from best (at the top) to worst (at the bottom).
Goes On Easiest
Mally
Laura Geller
Pixi
Wet & Wild
Looks Best On
Mally
Laura Geller
Wet & Wild
Pixi
Lasts Longest
Wet & Wild
Mally
Pixi
Laura Geller
*NOTE: The waterproof eyeliners that last the longest are also the hardest to remove yourself. In my opinion, this is a good thing — because it means that they really do have lasting power! Without a doubt, the Wet & Wild took the most work to remove, followed by Mally, then Pixi, and then Laura Geller.
In these next 2 photos, you can see how each waterproof eyeliner lasted over the course of 24 hours. First (on the left), as seen the next morning after 1 day of routine handwashing and 1 night's sleep. Then (on the right), after taking a shower in the morning:
The Waterproof Eyeliner I'll Continue To Buy
Well, there are actually 2 waterproof eyeliners that I consistently reach for now:
For the easiest to apply that's also long-lasting, Mally is my go-to waterproof eyeliner of choice these days.
On days when I know that I'll need extra long coverage — like after a day of swimming — then I tend to choose the Wet & Wild H2O.
I am so thrilled to have found a waterproof eyeliner that truly does last all day, no matter the circumstances. And if you're an allergy sufferer with itchy, watery eyes I'm sure you'll be happy with both of these as well!
Unique Features About Each Waterproof Eyeliner
I really like the Laura Geller I-Care Waterproof Eyeliner Pencil because it's super rich and creamy (just like the Mally brand) and it stays in place over time. However, it's also a bit more likely to smudge soon after applying it than the others; takes a little longer to "set". I have this eyeliner in 4 different colors: Black, Evergreen, Brown, and Violet. I like the Black and Violet best because they're bright and noticeable. The Evergreen looks like charcoal and the Brown looks  like a pinkish brown. I really like the bonus built-in smudger and built-in sharpener on these eyeliners! (For what it's worth, the only other Laura Geller makeup product I've tried is Shade & Sculpt Baked Powder. I use it as a blush, concealer, and eyeshadow — absolutely love it!)
The Pixi Endless Silky Eye Pen has a very thick crayon-like tip, so it's hard to get a soft, fine line. Although it stays on all day, and it is somewhat creamy in texture, it's the hardest to put right where you want it. And over time, it tends to wear off in teeny tiny speckles, rather than wearing off evenly. (This is the first Pixi makeup item I've tried.)
The Wet & Wild H2O Proof Liquid Eyeliner definitely lasts the longest, but since it's a liquid eyeliner (which I've never been fond of), it's somewhat difficult to put on. Every dunk of the wand in the eyeliner bottle covers about 1/4th of the space I actually want to cover with the eyeliner. Therefore, it takes at least 4 dunks to create a single fine line. That's not ideal, if you ask me. Plus, all of the other brands can be worn comfortably on your inner lid (closest to the eye). Not this one. It immediately gravitates into your eye. You then have a long black string of eyeliner swimming deep between your eye and your lower lid – yuck. (The last time I used Wet & Wild makeup products was in my teens. I truly didn't have high hopes for this one, but I was pleasantly surprised!)
The Mally Evercolor Waterproof Eyeliner is without a doubt the creamiest and the easiest to apply from those I tested. Since it also dries quickly and lasts forever, it's a  win-win-win in my book. (To be honest, I didn't expect to have this result. It's the first Mally Beauty makeup product I've tried.)
Other Highly Rated Waterproof Eyeliners
For what it's worth, I still have a hankering to try a few more of the waterproof eyeliners that were mentioned in the above article. So far, I've only tried 2 of the 7 that were mentioned, and liked them well enough to think they're probably right about the others being great too. They are: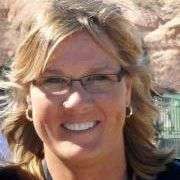 I like to help people find clever ways to do things that will save time & money — so I write about "outside the box" Beauty Tips and Beauty Hacks that most people wouldn't think of. With beauty products (like hair care, skincare, and makeup) and personal care items (like teeth issues, body odor, undergarments, and <em>other</em> topics that very few people enjoy talking about)… I share my own honest firsthand experiences that I think others would appreciate hearing about and find helpful. Especially for topics that are usually very "private" and most people don't like to talk about publicly! When I'm not trying new beauty products and organizing all my "stuff", you'll find me at the corner of Good News & Fun Times as publisher of The Fun Times Guide (32 fun & helpful websites).