This post may contain affiliate links. If you buy thru these links, we may earn a commission at no additional cost to you.
---
You know that relaxed, sun-kissed hair look that surfer girls rock?..
Who doesn't love bouncy, beachy summertime hair — with blonde strands lightened by the sun's summer rays?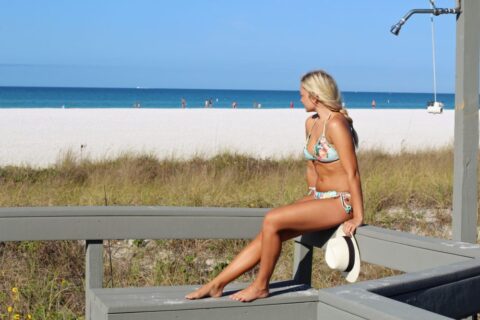 Well, you may not have 24-hour access to the beach (or the ability to surf the waves) — but you can still embrace the spirit of summertime with beachy, natural hair highlights!
Following are 4 DIY ways to get sun-kissed blonde highlights naturally — without an expensive trip to the salon!
Good To Know…
Before you read further, keep in mind these 3 things:
These tips will work best if you have blonde (even dark blonde) hair.
Some of these tips may also bring out some of the natural red in your hair — if you happen to have naturally red highlights.
In order to have healthy, sexy beach hair, you must keep it silky, soft, and moisturized. So you don't want to use anything harsh on your hair without balancing it out with something nurturing afterwards — you could strip your hair of its natural oils. Your best bet is to follow up any DIY hair highlighting treatment with a good leave-in conditioner.
First, Remove The Buildup
The shampoos, conditioners, treatments, and styling products we use on our hair every day leave behind tiny traces of buildup that, over time, dull the natural shine.
Before you use anything to create highlights in your hair, remove that buildup with a rinse of 1 part apple cider vinegar and 6 parts water before you shampoo.
Not crazy about the smell of vinegar? Try crushing several Vitamin C tablets and mixing them with water in a spray bottle. Spritz it on, and let it sit for 15 to 30 minutes — before you rinse it out.
Now onto the 4 ways to highlight hair at home:
#1 – Use salt water.
Have you ever noticed how your hair always looks brighter and bouncier after a day of splashing around in the ocean?
That's because the salt in the water opens the hair cuticle enough to let the sun in.
If you don't live near the ocean, then do this:
Mix 2 tablespoons of table salt with 2 cups of water in a spray bottle.
Spritz your hair.
Go outside for awhile and let the sun do its work.
Before you go to sleep, wash your hair — so the salt won't sit in your hair too long and follow with a good conditioner.
Your salt water mix replicates the salt from the ocean. Combined with bright sunshine, you will begin to see natural hair highlights!
Here are the benefits of using a sea salt spray to create blonde highlights.
#2 – Use lemons.
Our grandmothers did this when they were teenagers.
The lemon juice natural hair lightener trick has been around so long — because it works!
Here's one way to do it:
Mix equal parts lemon juice and water.
Spritz it thoroughly throughout your hair.
Head out in the sun.
Leave it in your hair for as long as you like before shampooing out all of the lemon juice residue.
Here's another way to do it:
Mix lemon juice with an equal amount of coconut oil.
Swipe that mixture through strips of your hair for a streaky look.
Spend some time in the sun.
The coconut oil will soften the harshness of the lemon juice while it lightens your hair.
You should still shampoo and condition your hair before going to sleep that night.
What's the difference between using lemon juice vs Sun In hair lightener?
#3 – Use tea.
Here's how to use tea to naturally lighten your hair:
Make a strong cup (or two, depending on how much hair you have) of chamomile tea.
Let it cool first, then soak your hair with it.
Go outside in the sun until your hair is completely dry
Shampoo as usual.
You can also use chamomile tea in a hair mask this way:
Brew 4 tea bags of chamomile tea in 1 cup of water.
Let it cool, then mix with 2 or 3 tablespoons of plain Greek yogurt.
Apply the mixture to your hair, and allow it to stay in for 1 to 2 hours.
Wash out and style as usual.
Chamomile can lighten your hair — even without the sun. But it's most effective on hair that is already light.
#4 – Use cinnamon.
Cinnamon has great hair-brightening properties — plus it will make your hair smell amazing!
Here's how to do it:
Mix 1 tablespoon of ground cinnamon with enough water to create a thick paste.
Mix that paste with 1/2 cup of your favorite hair conditioner. (The conditioner will help the cinnamon mixture stick to your hair.)
Slather this mixture all through your hair.
Then, put your hair up in a cap for at least 6 hours — overnight is even better.
After you shampoo it out in the morning, you'll enjoy soft, gently brightened hair!
Here's the recipe for a honey and cinnamon hair mask that lightens and conditions.
Why should the surfer girls have all the fun? If you follow these do-it-yourself tips, you'll be able to get your own natural hair highlights this summer!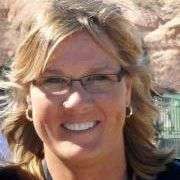 I like to help people find clever ways to do things that will save time & money — so I write about "outside the box" Beauty Tips and Beauty Hacks that most people wouldn't think of. With beauty products (like hair care, skincare, and makeup) and personal care items (like teeth issues, body odor, undergarments, and <em>other</em> topics that very few people enjoy talking about)… I share my own honest firsthand experiences that I think others would appreciate hearing about and find helpful. Especially for topics that are usually very "private" and most people don't like to talk about publicly! When I'm not trying new beauty products and organizing all my "stuff", you'll find me at the corner of Good News & Fun Times as publisher of The Fun Times Guide (32 fun & helpful websites).