This post may contain affiliate links. If you buy thru these links, we may earn a commission at no additional cost to you.
---
For the past 4 years, I've been following this do-it-yourself mouth care routine for a fresher, healthier, whiter smile.
I'm going to show you how it only takes a few minutes a day to do teeth whitening at home.
Don't you just love the way your teeth feel after getting them cleaned at the dentist?
Imagine having that polished and clean feeling every day! (I haven't had my teeth professionally cleaned in over 2 years, thanks to using this home teeth whitening routine.)
These 5 simple steps will have your gums and teeth the healthiest and cleanest they've ever been — and it just takes a few minutes each day.
The Best Home Teeth Whitening Products
For optimum results, you will need each of the products mentioned in the following 5 steps for this at home teeth whitening process.
By the way, all of these items can be purchased in the dental aisle at your local Walmart.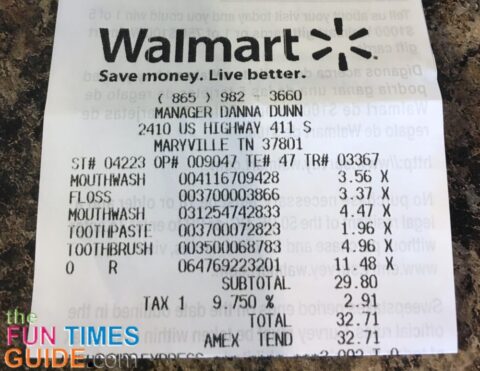 Step #1 – Brush your teeth with a whitening toothpaste.
I use Crest Tartar Protection whitening toothpaste. It helps remove 80% of surface stains and helps prevent new stains from forming. Plus it helps keep your breath feeling fresh for up to 12 hours!
I brush my teeth with the Colgate 360° Total toothbrush. It has a built in tongue cleaner and its unique features clean your teeth and gums more efficiently.
TIP: It's true what they say… Always remember to replace your toothbrush every 3 months — or sooner, if the bristles start to fray.
Step #2 – Floss your teeth.
I like to floss my teeth with Oral B Glide pro-health deep clean floss.
Why is it so important to floss? Because plaque will start to form in your mouth within 24 hours. It is best practice to floss once a day to disrupt the plaque and prevent build up. When you floss, you actually clean between the teeth and eliminate the bulk of bacteria — which is most times the culprit for cavities and gum disease.
Step #3 – Rinse your mouth with CloSYS for at least 30 seconds.
CloSYS is a daily oral rinse for a healthier mouth. I rinse my mouth with 1 capful of CloSYS.
The benefits of using this rinse are:
It's great for sensitive mouths.
It's dentist-recommended for canker sore relief without irritation.
It kills 99% of harmful bad breath bacteria.
It reduces plaque.
It's pH-balanced to reduce germ growth.
Step #4 – Rinse your mouth with an antimicrobial mouthwash for 5 seconds.
I rinse with Listerine cool mint mouthwash. Because of the acidity, I use a 1/4 cap of the Listerine diluted with 1/2 cap of warm water.
This antimicrobial mouthwash will help reduce even more plaque and gingivitis — more than just brushing and flossing alone.
Step #5 – Rinse your mouth with an anticavity mouthwash for 1 minute.
I rinse with ACT anticavity mouthwash in mint flavor.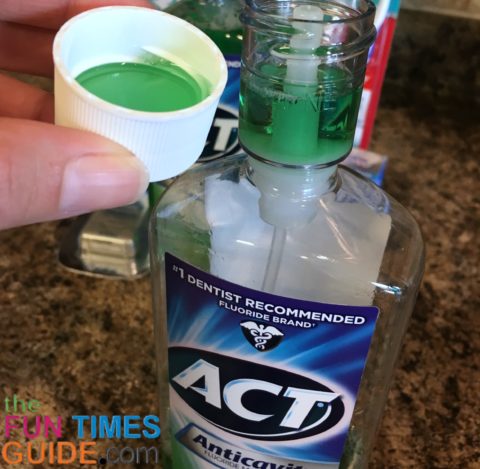 When you're doing teeth whitening at home, ACT mouthwash is the final defense and barrier to help prevent cavities, strengthen your teeth, and freshen your breath.
TIP: Remember not to eat or drink anything for 30 minutes after the final step in this home teeth whitening routine.
When To Do Teeth Whitening At Home
I do this home teeth whitening process right before bed, and then I just brush my teeth in the morning after my morning coffee.
Some days I don't do the full routine, but I always try to get it done every 2 to 3 days at the minimum.
I can always tell when it's time to do the full routine — because my teeth just don't feel clean even after brushing alone.
I've found this to be the simplest and fastest way to get the freshest breath that lasts.
I always recommend this 5-step routine to anyone who asks about my white teeth. If you you follow these 5 steps daily, you'll have the cleanest, healthiest mouth and keep your teeth white.
Whiter, brighter teeth for less than $35
For Added Protection, Try This Candy & Gum
If you like to chew gum or suck on mints, I recommend trying Zellies gum and Zellies mints — for added protection from cavities and gum disease.
Zellies mints and gum use all-natural Xylitol, which is a healthy alternative to sugar and artificial sweeteners. They're delicious and come in a wide variety of flavors to suit your palette.
Sweetened with 100% all-natural, tooth-friendly Xylitol. Each mint contains 0.5 grams of Xylitol. Eating 6 to 10 grams of Xylitol daily, in frequent small doses helps prevent damage from dental plaque, dry mouth, and acidity.
With regular use, Xylitol gum and/or mints will help strengthen your teeth, prevent decay, heal early cavities, and freshen your breath.
I'm a first-time mom. I work from home and write — mostly about my outdoor adventures, DIY projects, newly discovered products, and helpful tips as a first-time mom. I also like to share details about the alternative choices I'm exploring, as I enjoy this journey called motherhood. My family includes a toddler, 2 stepchildren, 1 dog, 1 cat, and a wonderful husband. My pre-pregnancy life was full of freedom and adventure, so I have a fresh new perspective when it comes to walking away from a career to become a full time stay at home Mama.