This post may contain affiliate links. If you buy thru these links, we may earn a commission at no additional cost to you.
---
Whether you've got long hair or short hair, we all get bed head, right?
But before we get to the awesome DIY ideas…
First you need to see what the official Morninghead product is like. Basically, it's a shower cap with a thick absorbent liner that magically tames unruly hair — aka bed head.
It's currently available for around $10 on Amazon.
DIY Bed Head Solutions
I saw  Max Valverde (the inventor of Morninghead) on Shark Tank the other night, and I made a quick note when Barbara Corcoran shared her own brilliant idea as a FREE alternative to buying a product like Morninghead.
She said: "I wash my hair every other day, and it's true. The second day — if you shower at night — your hair looks terrible. But bad news for you is I discovered another solution. It's called a damp face cloth. I rub it around and I have perfect hair."
Here's the full 42-minute episode of Shark Tank. All of the products and inventors are pretty incredible in that episode — it's definitely worth a watch. Barbara's quote is at 29:45 in the video.
Barbara Corcoran, whom the show described as a real estate mogul, offered up the "totally unnecessary" comment and told Valverde that a wet washcloth would do the job just as well as Morninghead. Source
Clearly, this isn't the first time anyone thought to put a wet washcloth on your hair to eliminate bed head. Heck, moms have been doing this for years to help with kids' cowlicks and bed head.
Here are a few more DIY ways to combat bed head.
I think it's funny that there's even chatter about using Morninghead versus using a washcloth on Twitter. To which the inventor replies, "Morninghead is way better and faster than a washcloth. Try us out, you won't regret it."
Morninghead Is Great For 4 Reasons
So, in the end, the guy didn't get a deal on Shark Tank, but as you can see in this video, he doesn't care.
It's true. The product will still be a hit.
Personally, even though a wet washcloth might work just as well, I like these 4 things about the Morninghead version:
It has an elastic band to keep water from dripping down on your face.
It's self-contained to hold all of your hair underneath — making it especially great for longer hair.
It holds a full 2/3rds cup of water — that seems like more than a standard washcloth can hold.
It works for other situations, such as helmet hair and hat hair too!
For the latest updates, keep your eye on the Morninghead Facebook Page.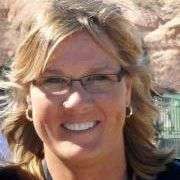 I like to help people find clever ways to do things that will save time & money — so I write about "outside the box" Beauty Tips and Beauty Hacks that most people wouldn't think of. With beauty products (like hair care, skincare, and makeup) and personal care items (like teeth issues, body odor, undergarments, and <em>other</em> topics that very few people enjoy talking about)… I share my own honest firsthand experiences that I think others would appreciate hearing about and find helpful. Especially for topics that are usually very "private" and most people don't like to talk about publicly! When I'm not trying new beauty products and organizing all my "stuff", you'll find me at the corner of Good News & Fun Times as publisher of The Fun Times Guide (32 fun & helpful websites).