This post may contain affiliate links. If you buy thru these links, we may earn a commission at no additional cost to you.
---
If you use a curling iron or a flat iron, then you need a way to pack and carry it whenever you're traveling, right?
Or, you might just want a cover to protect your hair tools that get hot on your bathroom vanity.
Another time that a heat-resistant cover makes sense is when you're actually using your curling iron. I mean, I don't like to leave my curling iron directly on the countertop — even though it has a little built-in stand that elevates it a bit off the counter itself.

I have a simple DIY idea that works in each of the above scenarios!…
Kitchen Pot Holder = Curling Iron Cover
Here's what I do to keep my incredibly hot curling iron from touching things that could melt or burn:
I made my own curling iron cover using a silicone hot pad (at home) and a silicone oven mitt (when traveling).
These are items that you probably already have in your kitchen!
#1 To keep the heat from my curling iron from scorching the bathroom countertop, I simply place a silicone hot pad on the countertop, and let the hot curling iron rest directly on the silicone pad itself.
#2 To pack and/or travel with a curling iron that hasn't cooled completely, I slip the hot end of the curling irong into a silicone oven mitt.
Silicone Pot Holders Work Best
Technically, any kitchen pot holders would work, but silicone pot holders work the best.
Silicone is great because it can touch hot items up to 500 degrees Fahrenheit without melting or burning. Plus, you cannot feel a bit of the heat escaping through the silicone itself! It always stays cool to the touch.
These are the types of silicone pot holders that I use as curling iron covers:
HotSpot Silicone Pot Holder — it's flat and gives you plenty of room to place the hot part of the curling iron on. This is great for protecting your countertop! Plus, you could also wrap the hot pad itself directly around the hottest part of your curling iron, hold it in place with velcro cable ties, and then pack it away …while it's still hot!
Okra Silicone Oven Mitt — it's long enough to cover the entire curling iron. Just wrap the cord around the outside of the silicone when you travel. Or, to keep the cord firmly in place, use velcro cable ties.
Similar Alternatives Are More Expensive
There are actually a number of products made just for this purpose. Most are marketed as flat iron travel pouches and heat-resistant mats for hot styling tools. They range between $10 and $20.
The Hotty Hoody is another unique product that was designed just for this purpose. It's priced between $17 and $25.
The Hotty Hoody takes care of the pack & travel scenario quite well. It's long and narrow and expands to fit practically any hot item like a curling iron, hair straightener, or flat iron.
It's marketed as "a cool sleeve for your hot styling tools."
In addition to using the Hotty Hoody for travel, you could also leave it at your workspace every day, and simply slip the hot styling tool into it while you're getting ready and fixing your hair.
Plus, the Hotty Hoody gives you a place safely rest your hot styling tools when you're done — so they can cool down without damaging your countertop.
This video shows how the Hotty Hoody curling iron cover works (and it gets pretty good ratings, too):
---
Make Your Own Cover For Hot Styling Tools
Here are some instructions for making your own protective cover for your hot curling iron or hair straightener: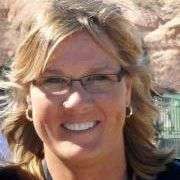 I like to help people find clever ways to do things that will save time & money — so I write about "outside the box" Beauty Tips and Beauty Hacks that most people wouldn't think of. With beauty products (like hair care, skincare, and makeup) and personal care items (like teeth issues, body odor, undergarments, and <em>other</em> topics that very few people enjoy talking about)… I share my own honest firsthand experiences that I think others would appreciate hearing about and find helpful. Especially for topics that are usually very "private" and most people don't like to talk about publicly! When I'm not trying new beauty products and organizing all my "stuff", you'll find me at the corner of Good News & Fun Times as publisher of The Fun Times Guide (32 fun & helpful websites).