This post may contain affiliate links. If you buy thru these links, we may earn a commission at no additional cost to you.
---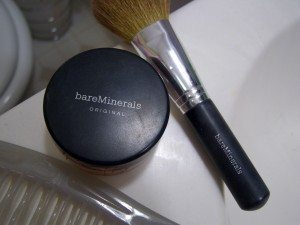 BareMinerals makeup has been a part of my makeup routine for a few years now, and every time I try a new foundation, I always return to using bareMinerals products because they perform better than anything on the market.
A lot of other mineral lines of makeup tend to be chalky, and they require multiple touch-ups throughout the day, which becomes a major hassle when you're on the go.
Fortunately, you won't find this to be the case with bareMinerals, which is just one of its many benefits.
My BareMinerals Routine
Applying bareMinerals foundation is quick and easy, and requires very little makeup-using experience.
As for my personal application routine, I begin by applying Prime Time foundation primer. This is great because it helps my makeup stay in place, and the Prime Time product lasts a long time since it only takes a pea-sized amount to cover my face.
When applying my foundation, I pour a small amount of product onto the lid of the jar, and then buff the product onto my skin. I start near the hair line, and work my way inward towards my nose so that I am sure not to miss any areas.
I have a few red spots, but they are easily covered up when I use the concealer brush after applying the foundation over my face. The concealer brush is perfect for small red areas, and the bonus is that I don't need to have a bunch of shades of concealer for the different areas of my face. This is because the bareMinerals foundation looks so natural that it works on every part of my face.
When I apply the foundation as a concealer, I simply use what is left over in the lid to dab the red areas – it's fast and it's easy. If my skin is having a bad day, I grab my Multi-Tasking Summer Bisque eye base, and use it to conceal dark circles and other problem areas.
It's great that I can use bareMinerals products in different ways to get more use out of them!
The Mineral Veil is nice to use after I've applied eyeshadow. It brightens my skin, and doesn't make my face feel loaded-up with product. I focus the Mineral Veil on areas of my face that tend to become oily throughout the day, which helps my face keep from becoming shiny.
Sweat Proof Makeup
Summer weather is hot and humid, so when I first began wearing bareMinerals, I was worried it would become muddy on my face.
I shouldn't have worried so much because these powders stayed in place, making them perfect for my lifestyle.
I can wear bareMinerals when I play sports and go to the gym without worrying as much about my skin's condition. However, I still bring blotting papers just in case my skin gets too oily for comfort.
Sleeping In BareMinerals
I've fallen asleep with these products on my skin before, and I didn't have any issues the following day with acne popping up.
Plus there were no traces of the makeup on my white pillowcase either.
I did have raccoon eyes from my mascara running, but they're better than having pimples!
Makeup Removal
I have used the bareMinerals Flawless Definition Waterproof Mascara and enjoyed how easy it was to apply.
The wand is long and straight, which makes it easy to apply the mascara to the inner lashes close to my nose.
The mascara didn't flake off like a lot of other mascaras do, and when I wash it off, the product isn't one that needs a lot of scrubbing. I simply hold a cotton ball with the eye makeup remover over my closed eye for a few seconds, and then swipe the mascara off. It only takes a few seconds and I'm mascara-free!
BareMinerals Lip Products
I personally don't think lips are a big concern since a simple lip balm or lip gloss works for me.
Still, I like bareMinerals lips products such as the lip glosses because they're confidently-packaged and have a doe foot applicator, which is the easiest way to get the gloss from the bottle to the lip.
A product that I am excited to try is the bareMinerals Marvelous Moxie Dare Devil because I like lip plumping products.
Conclusion
I think that bareMinerals makeup is perfect for women of any age because it leaves your skin flawless, and it's nearly impossible to over-apply these products to your skin.
Teen girls can benefit from using bareMinerals because it is gentle on their skin, easy to apply, and the cost is affordable.
Overall, there are no other mineral brands around that can compete with the quality of bareMinerals products. The double use, quality, and price of Bare Minerals can't be beat!
The packaging is simple and to the point, and I appreciate that they're not trying to 'wow' us with over-the-top labels and advertising. Instead they are spending their time focusing on making quality products.
Our guest contributor, Ashley, is passionate makeup artist and writer. You can enjoy more of her beauty & makeup articles and tips by visiting Beauty-tips.net.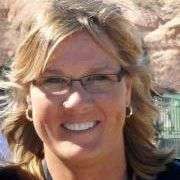 I like to help people find clever ways to do things that will save time & money — so I write about "outside the box" Beauty Tips and Beauty Hacks that most people wouldn't think of. With beauty products (like hair care, skincare, and makeup) and personal care items (like teeth issues, body odor, undergarments, and <em>other</em> topics that very few people enjoy talking about)… I share my own honest firsthand experiences that I think others would appreciate hearing about and find helpful. Especially for topics that are usually very "private" and most people don't like to talk about publicly! When I'm not trying new beauty products and organizing all my "stuff", you'll find me at the corner of Good News & Fun Times as publisher of The Fun Times Guide (32 fun & helpful websites).